How will training proceed?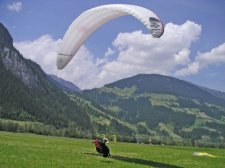 You'll begin your flying training on our nursery slopes & within a short space of time; you'll be taking your first steps into the air, all the time under the expert tuition and guidance of our instructors.
To fly a paraglider unsupervised you will have to reach the required standard of Club Pilot (Novice). This typically takes a minimum of 10 days of tuition (they do not have to be consecutive). However, your first goal will be to achieve the Elementary Pilot level (4 to 5 days).
How much will further days cost?
Once you have paid for your Club Pilot course, we offer all additional training days free. In fact we positively encourage you to stick with us once you have qualified until you naturally and gradually fledge fully and need to leave the nest! We have many pilots who have chosen to only fly in our company long after they qualified.
On The Day ...
We meet at 9.00am at our Centre in Glynde, Sussex. See our find us page for details.
Please phone us the evening before your lesson (after 8:00pm) and listen to the answer phone message. This is to check if your day has had to be rescheduled due to bad weather - 01273 858108.
Unfortunately, although we are often told we work miracles we can't control the weather .... !!
What to Bring and Wear ...
Food & drinks are available here at our centre. In summer lots of water is necessary to keep hydrated.
It is best to wear light, loose fitting clothes. Craghoppers, tracksuits., etc. It's best to wear several layers, then you can add or remove as necessary. Jeans are not ideal as they restrict movement and retain moisture. You will want a windproof outer layer.
It is most important that you wear boots with good grip and ankle support. Ordinary shoes or trainers are completely unsuitable! Ideally you want boots without hooks, but we can tape over them if necessary.
We will supply all the specialist equipment you need: helmet, harness, glider etc. Just bring yourself, your boots and maybe a friend with a camera. Your day will typically finish between 5.30 & 8.30pm. This may vary according to weather conditions and student fatigue. There are also seasonal variations in daylight to consider.