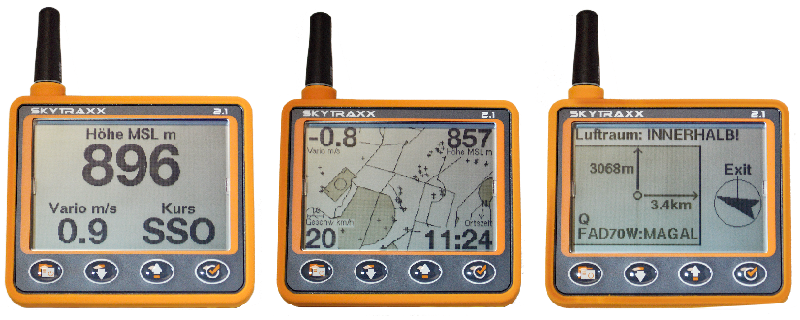 Skytraxx 2.1 Fanet
The SKYTRAXX 2.1 is the further development of the tried and tested Skytraxx 2.0

Instruments with FANET or FLARM modules are eligible for a £250 rebate from the CAA, details can be found
here
along with the application form.
An easy-to-use high-tech vario with high-precision sensor resolution <5cm, it has a compact size with silicone protective cover The Skytraxx 2.1 includes current airspace data worldwide, landing sites and take-off sites with automatic updates via WLAN, as well as an integrated obstacle database with corresponding warning when approaching.
Other features include:
► Speech output
► Altimeter barometrically calibrated via GPS up to 9999m
► Variometer with very sensitive response time (<0.5 seconds)
► The vario value is read out and averaged 60 times per second
► Compact device with integrated GPS and logger
► Large graphic display with gray levels and the best contrast in direct sunlight
► 8 GigaByte memory
► Running time> 40 hours
► Thermal assistant
► Hike mode with GPX import and export functionality. Reading in a hiking route via GPSies or Hike & Fly , for example, is very easy
► FANET and FLARM integrated (optionally the Skytraxx 2.1 can be ordered without this function)
► Live tracking via OGN stations at no cost. Portals such as Glidernet or LiveTrack24 can be used
► 4 user definable fields on each page
► USB-C interface
► No external software required
► Languages: German, English and French
► Windows, Linux and MAC compatible
► Ideal for use in the DHV-XC (OLC).
► Integrated WLAN